Brief History:
BareMetal came out of Tom's consulting on Internet connectivity and UNIX support. The transition to web and hosting services in 95 was obvious. The first clients were (of course) friends. Our core ethics can still be summarized as treating our clients as friends (we provide a solid service for a reasonable fee, we don't take advantage of client mistakes, etc). The proprietorship was converted into "BareMetal.com Inc" in 2000.
Our Name:
The name BareMetal was picked from "The Hacker Jargon File" where it refers to programming at the hardware level and to building computers and system software from scratch.
We liked the implications: depth of knowledge, ability to build clean systems, none of yesterday's headaches. We strive to keep this ideal by understanding everything we do without skipping the details.
Our Staff: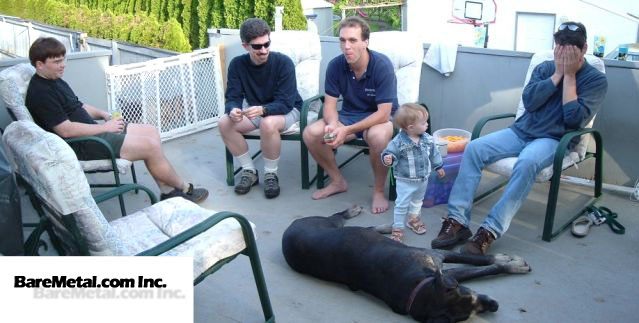 (This picture is out of date :(. See if you can guess who is who! Answers at the bottom of the page.)
BareMetal.com's president is Tom Brown. Tom went through the Co-op Electrical Engineering program at UVic (graduating with First Class Distinction in 1990). His resume includes five years of working with the BC Government as a systems analyst, a couple semesters of teaching at a local college, and a lot of time as a business owner.
Our technical support team consists of James Fleming and Steven Somers. They both have many years of Internet experience.
We are assisted by our families, and the normal network of professional relationships, including those with our primary suppliers: TuCows.com, CIRA, and Priority Colo.
We would like to acknowledge the contributions of past employees and co-op students: Victor Chong, Abram Hindle, Nathan Eror, Kelly Davyduck, Ewan Edwards, Vince Bird, Tim Woodcock, and Steven Sommers.
(2001 Staff picture identities: Adults from left to right: Tim, Ewan, Tom, Vince (playing peekaboo). The toddler is Tom's daughter Daya and the "big dog" was Vince's great dane Allister.)